An Interview with Kol Tefilah
with eight musical examples using

.
(If you don't have the free RealAudio Player for your browser, download it here.)
I wanted to share with you news of a very exciting Jewish musical project called Kol Tefilah, and to play for you and your listeners tapes of some of the music. As far as I know, Kol Tefilah is unique.
What exactly is Kol Tefilah?
Kol Tefilah is a synagogue choir without a synagogue. Kol Tefilah is a small ensemble specializing in Jewish liturgical music; that travels around, leading services. There are five men in Kol Tefilah. The members of Kol Tefilah take turns leading the different services. At each service, the rest of the group sing as a choir. Kol Tefilah travels around meeting new communities and people, davening in the beautiful style of classical chazzanut.
What do you mean by classical chazzanut?
At a traditional service, there is one person who is the congregation's representative and leader in prayer. A person who does this professionally is called a "CHAzn" in Yiddish, or "ChazZAN" in Hebrew, or a "cantor" in English. "Chazzanut" basically means: Jewish liturgical singing. "Classical chazzanut" is a particular musical art form, with its own set of traditions and rules and heroes. Classical chazzanut is mostly improvised music; the cantor makes up the notes as he sings. But there is a rigid framework within which the improvisation happens.
If the cantor improvises the music, how can there be a whole choir, like Kol Tefilah, singing along?
For each member of Kol Tefilah who leads services, there is another member designated as the "chord thrower". The chord thrower listens to the cantor's improvisation, anticipates, makes musical judgements, and sends instructions to the rest of the choir by hand-signs. The choir can actually be singing on the fly - each singer not knowing what their next note will be - but responsive to the hand-signs. And Kol Tefilah only has one voice on each choir part, so the chord-thrower is also singing his own part at the same time.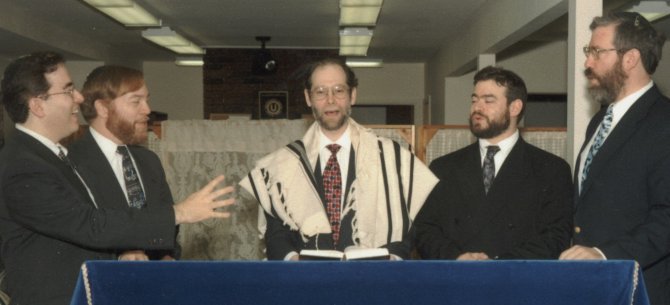 Photo of Kol Tefilah at Congregation Eitz Chaim in Sharon, MA.
Jeremy leading; Gil throwing chords; Gary, Sruli, and Jordan singing.
While the cantor is improvising, the choir can hum, change vowels between 'oooh' and 'ah', and can repeat key words after the cantor sings them. All this can be done within the chord-thrower's improvisational framework.


EXAMPLE: a recording of Kol Tefilah dressing up the nusach with vocal effects.
From the Friday night service for welcoming the Sabbath. Jordan is leading, Gary is throwing chords and singing. Meir and Jeremy are singing. In major.
(duration: 0:53)
It's an exciting musical proposition that gives the cantor freedom. Of course, over time each combination of cantor and chord-thrower develops sensitivity, each becomes alert to the needs of the other.